Is My Baby Normal
Babies do all sorts of seemingly oddish things. Things that'll leave you wondering, is my baby normal? Sometimes their movements and reflexes can look scary to those who haven't been around newborns or who aren't well-versed in their behaviors. We noticed that when we work with new parents, we almost always get asked, "my baby does ________, is my baby normal?"
Common baby behavior includes evolutionarily-base reflexes. These can seem frightening and sometimes funny too (shhhh). We delve into each of these ahead and explain why your baby isn't an actual alien life form.
Rooting is a reflex that helps your baby, well, root.
What does that mean? It means that this adaptation allows your baby to seek out and find a nipple. They'll turn their heads side to side, lifting their necks, with their eyes closed.  It's actually an early indicator of hunger, shortly before they cry and scream emerge.  When they root, they'll sniff you if you are holding them! If they are by themselves or in a bassinet, you might notice that they put their whole fist in their mouths!
Tonic Neck reflex is a much more subtle reflex.
Fencing or Tonic Neck reflex is when your little one looks like he/she is the "On guard" position when they lie on their back. Some may describe the baby as looking like a little fencer! It serves as an important clue to their neurological development.  For instance, if your baby is never or always in this position, or continues this reflex past six months, it's important to mention it to the pediatrician.
The Startle or Moro reflex is simultaneously intriguing and funny.
When you make a loud noise or sudden movement, like unswaddling, your baby will throw his/her hands upwards and their body will jolt. Sometimes, though, it seems to happen when the house is as quiet as a library. This particular reflex is another leftover evolutionary adaptation as it helped our prehistoric ancestors respond to danger.  Notice how their hands grasp while they move their arms upwards?  Since we are primates, this ensured that the baby would hold very tightly to the mother as she escaped danger.  Speaking of grasping…
The Grasp or Palmer reflex works in conjunction with the Moro, but is important on its own.
If you put your finger on the palm of your baby's hand, he/she will instinctively close their hand around yours. This is one of the cutest, most enjoyable reflexes a parent, family member, or caregiver can expereince. This serves to keep them safe as discussed above, but it also is the beginning of fine motor development.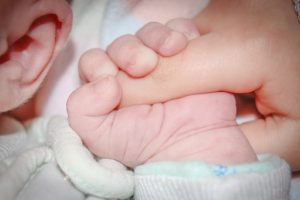 The Plantar or Babinski reflex refers are associated with the feet of the newborn.
Just as the Palmer reflex is a reaction of the fingers curling to grab, the Plantar, or Babinski reflex is the foot's way of responding to stimuli and helps the body to begin developing gross motor skills. Stroke your finger along the sole of their feet, right under the toes and you'll see some extreme monkey ability!
Sometimes, parents will notice that their baby's eyes are rolling into the back of their head!
This is really common and completely normal. As babies come out of or are going into a deep sleep, their state of consciousness is shifting and thus, their eyes will roll under their eyelids. Sometimes, their eyelids open a little and you see all the eye movement. (Generally speaking, there is no need to worry, but like anything, if you're concerned call a medical provider.)
While we're on the subject of beautiful baby eyes I want to also mention that if your baby's may appear crossed from time to time. That can be normal too. It usually always straightens out by the baby's first birthday. Talk with your pediatrician if you are concerned, but at each well-check they will examine your baby's eyes to make sure they are developing correctly!
Periodic Breathing
Have you ever noticed that your baby, particularly when asleep, will start breathing short, little breaths like gasps and they'll whimper? Well, this is another scary newborn event, which is also completely normal! Babies have immature respiratory systems and this is their body's way of strengthening and regulating oxygen intake (similar to yawning releasing carbon dioxide).  They may whimper and make sounds during this bout of Periodic Breathing, but baby should not however, appear to be struggling to breathe or stop breathing altogether.
You'll find yourself time and time again wondering, is my baby normal? As you grow as a parent, you'll begin to wonder, "what is normal anyway?" Then, you'll begin to differentiate between normal and abnormal behavior. It's always good to know that some of the strangest baby happenings are absolutely normal.  And if you are still anxious, well, your pediatrician is only a phone call away!