"… After five nights, we have a baby who sleeps 12 hours each night with minimal to no wake ups. Most importantly, Liz gave us the confidence to know we could continue the process after she left. Liz transformed our lives. Hiring The Jacksonville Baby Company was the best decision we ever made!" ~T. McKinley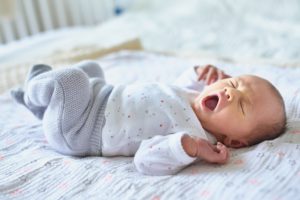 Sleep Training & Overnight Sleep Support
Overnight sleep support, sleep shaping, and sleep training can be life-changing! The nights are long, but the years are short…or so they say! Is your baby getting enough age-appropriate sleep to be truly happy and healthy? You're exhausted and quickly coming to grips with the thought of being sleep deprived forever! Exhaustion isn't something any parent needs to wear as a badge of honor, it can be dangerous and affect all aspects of your life.
I have amazing news for you! You do not have to accept this as your best life!
You can be well-rest and rise and shine once again!
What's overnight sleep support?
Our specialists work with you and your family to support your parenting style! No matter what age or stage of development your baby is in there are always things we can do to help you get more sleep!
How do I know which is best for us; overnight infant care, sleep shaping, or sleep training?
Newborn to 3 months
A newborn will always do best with an overnight infant care specialist! Ever heard someone say that they wish they could bring the nurses home from the hospital? Yeah, we fill the gap between healthcare and homecare! One on one support through the night! Sleep well knowing your baby will have very best care while you get much-needed sleep. You can be a part of it all or pick and choose while we handle the rest!
3 to 6 months old
An infant of 3-4 months will do best with overnight infant care specialist and begin sleep shaping! It's never a bad thing to keep doing what works! If you have a great thing going with your overnight infant care specialist, I wouldn't attempt to fix what isn't broken. However, 3-4 months is a great time to begin sleep shaping if your baby is showing signs they are ready, and you're ready to commit. We implement nights, you get rest and together we get baby on track for good sleep habits!
6 to 12 months old
Most infants 6-12 months old have the capability to sleep through the night. They'll do well with an overnight infant care specialist and continued sleep shaping, but are also ready for sleep training if that is more your speed! Our infant sleep specialist can sleep train your little one for you when you're ready! Then we teach you what you need to know to be consistent and keep your baby on track.
Let our team help you find the best fit for your family! Contact us today (904) 924-4182 and get ready to enjoy some beauty sleep!