Birth, Postnatal, and Newborn education in a variety of informative and engaging classes with the entire family in mind.
The Jacksonville Baby Company knows every birth and parenting journey is unique! Our classes allow you to fill your toolbox with the best tools available and pull the specific tools you need as you need them. You wouldn't use a square peg in a round hole. So why commit to just one birth "method" or "tool" in birth and parenting? As labor and life unfold what you need and find most effective will also change. We use current scientific research and evidence as well and proven communication styles to help you learn as much as possible in a way that is best for you!
The Jacksonville Baby Company teaches the following birth, postnatal, and newborn care classes:
Confident Birth & Parenting
Birth Partner Prep
Relax Into Birth
Vaginal Birth 101
Cesarean Birth Prep
Feeding Your Newborn
Sibling Preparedness
(coming soon) Preparing Your Nest
(coming soon) Newborn Care Class
Confident Birth & Parenting
The Jacksonville Baby Company helps you approach birth, parenting and your own intimate relationship with more confidence. Be in the know and discover what a "satisfying" birth really means to you while getting all of your "what ifs" and "how to" questions answered with science and evidence-based information. You and your birth partner will come away with a deeper understanding of the labor and birth process and the tools you need to navigate new territory and avoid many of the pitfalls of birth and early parenting!!
The Confident Birth & Parenting Class is only class of its kind offered in Jacksonville! GET CLASS OUTLINE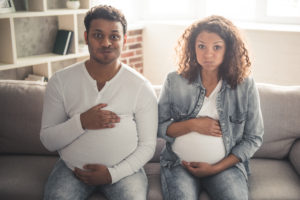 Birth Partner PrepClass
Have you considered having a doula by your side during birth, but ultimately you'd like the experience to be just you and your birth partner (baby daddy, mom, or otherwise)? While studies show benefits to having a professional doula, we understand not everyone wants hire a doula! Planning for an "all natural" birth? Perfect! Planning for an epidural? Awesome! This class is the class for you!
"The class was packed with great tips. My husband took notes. We practiced the techniques several times after class. When I went into labor we didn't panic. I was pleasantly surprised with my husband's help in labor and I think this class helped so much." GET CLASS OUTLINE
Relax Into Birth
The Relax Into Birth class helps parents understand why, when, and how to relax! Our educators will teach you positions, comfort measures, and coping techniques so you can relax your way into and through labor and birth.
"…The Relax Into Birth class was exactly what we were looking to learn without any fear. We didn't want to learn about emergency situations or how they induce labor. I was low risk and our baby and I are both healthy. Our birth was nothing like we planned, but we were very happy with the class and Liz was very professional and friendly." GET CLASS OUTLINE
Vaginal Birth 101
Vaginal Birth 101 focuses on the birth portion of vaginal birth as well as healing after birth!  This class ensures parents get answers to their most curious questions about what, why, and how it's going to happen! This class is perfect for those who just want to get a feel for what vaginal birth is like, who may not want to worry too much with a plan, and certainly do not want to entertain the idea of a backup plan "just in case".
"My wife and I were looking for a workshop or class that would give us details about vaginal birth and what to expect when recovering. The Vaginal Birth 101 class was very good. My wife had a VBAC, we used the information and techniques Elizabeth taught us and we feel they helped tremendously. If you're planning a vaginal birth take this class!" GET CLASS OUTLINE
Cesarean Birth Prep
Cesarean birth presents with its own set of joys and challenges. This unique childbirth education class is designed specifically for parents who are preparing to welcome their babies via a cesarean birth experience. We discover the joys, challenges, and common concerns. We cover the birth process from beginning to end and the options you have for unique experience.
"Elizabeth worked with my husband's crazy schedule and came to us on a day that worked for him. She was really knowledgeable and you can tell she cares.  We delivered at Baptist Downtown and had a fantastic experience. We hired her for some help at home after we delivered. This class helped me feel more calm and happy about my choice. Elizabeth helped me so much after I gave birth. I highly recommend the c-section class and postpartum support to anyone thinking about having a c-section." GET CLASS OUTLINE
Feeding Your Newborn
Like any new skill, feeding a baby takes some knowledge and practice. The more you know the better prepared you are for the challenges that lie ahead. Our Feeding Your Newborn class offers you and your partner the chance to prepare and get answers to your questions before your baby's arrival.
" I can't recommend The Jacksonville Baby Company enough! These ladies know what they are doing!! That feeling after your baby is born where you wish you could take the L&D nurses home with you- that's Liz and her team… but you can actually take them home with you!" GET CLASS OUTLINE
Sibling Prep
Welcoming a baby brother or sister is exciting! It's also all of the other things for an older sibling! This hands-on engaging class was created just for big brothers and sisters. We peek at what life will be like with a new baby around! The looks, sounds, smells, and BIG feelings that come along with having a new sibling are all addresses in this unique and informative sibling preparedness class! We promise there's no Caillou involved!
"My daughter loved the class. I was surprised she remembered so much. I overheard her teaching her cousin tips for safe sleep. Liz was thoughtful in her approach and I have already recommended the class to two of my co-workers." GET CLASS OUTLINE
Pregnancy, Birth, Postnatal, and Newborn Classes:
Confident Birth & Parenting $450
Birth Partner Prep $300
Relax Into Birth $175
Vaginal Birth 101 $175
Cesarean Birth Prep $175
Feeding Your Newborn $150
Sibling Prep $175 +$25 for each additional sibling within the immediate family
EXCLUSIVELY for those living within 10 miles of zip code 32011, Save 10% on all services!
Coming soon…
Newborn Care
Preparing Your Nest
Contact us to find out more about our classes!