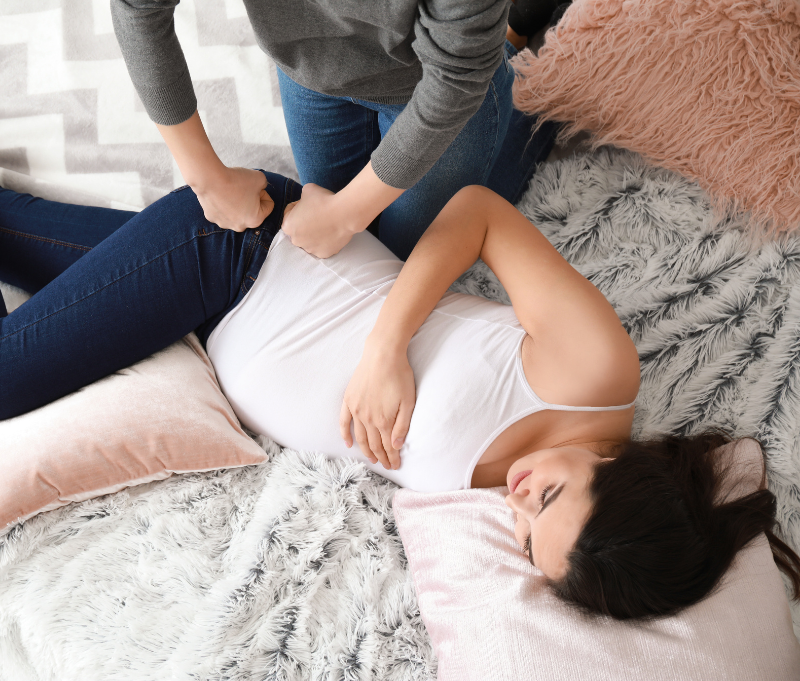 Classes for All Parents & Parents to Be
Respect, inclusion, and love should never be dependent upon how we need to give birth, become parents, or how we parent our children. There is no joy in judgment!
Many birth classes teach parents a single method for managing labor with an emphasis on achieving a specific outcome, a vaginal unmedicated birth. Placing immense value on only this way of giving birth slams the door shut on all the other possibilities. When this happens all other paths, tools, and ways of birthing our babies is lost.
These flawed teachings create the misconception that if you prepare in the "right" or "best" way, you'll achieve the "best" kind of birth, (deemed by many as an) an unmedicated vaginal birth.
That's simply not true. It's also harmful.
Facts: When parents learn about all of the moving parts and pieces rather than just one "way" or method to birth, medicated births, induced births, births utilizing an epidural, and even cesarean births can be as satisfying or more satisfying than an unmedicated vaginal birth.
Truth!
You can feel confident, empowered, and have a satisfying experience no matter how you become a parent, how you need or want to give birth, and what type of parenting style you find that works for you!
™The Confident Birth and Baby Class was created with all parents in mind.
Placing value not on how one gives birth or parents, but rather how they felt through the process. We focus on the big picture; communication, respect, comfort, options, support, flexibility, mechanics, and how one can achieve a more satisfying birth and parenting experience overall.
Our classes are based on current scientific research and evidence, as well and proven communication styles to help you birth and parent in a way that's best for you in the moment!
Parents have enjoyed these classes one-on-one since 2013, and can now also sign up for in-person group classes!
You'll prepare in a fun and informative way and approach birth, parenting, and your own intimate relationship with more confidence. Classes that resonate with you!
™The Complete Confident Birth and Baby Course | $360 I View Discounts & Offers
Informative. Engaging. A mindfulness-based course that meets the needs of today's parents. |
The Jacksonville Baby Company knows every birth and parenting journey is unique! Fill your toolbox with the best tools available and pull the specific tools you need as you need them in the moment. You wouldn't use a square peg in a round hole. So why commit to just one birth "method"? As labor and life unfold what you need and find the most effective will also change. We use current scientific research and evidence as well as proven communication styles to help you learn as much as possible in a way that is best for you!
Approach birth and parenting with confidence! ™ The Confident Birth and Baby Course is a complete course covering it all! From end of pregnancy concerns to labor and birth, the immediate hours after birth, and into carries into the first couple of weeks caring for your newborn.
We offer private, one-on-one personalized classes and group classes to fit your exact need!
Private Newborn Care Class | $200
Bottles, boobies, and diapers oh my! Sleeping, burping, soothing, and cries?! What does this mean? How often should I? When do I do that? Why, why, why is this so hard? The more you know the better prepared you are for the challenges that lie ahead. In the Newborn Care class, you and your partner will prepare for the time that matters the most and get answers to your most pressing questions before your baby's arrival. Offered one-on-one, in-person!
Hear From Our Students:
" I can't recommend The Jacksonville Baby Company enough! These ladies know what they are doing!! There's a feeling after your baby is born where you wish you could take the L&D nurses home with you- that's Liz and her team… but you can actually take them home with you!"
Private Epic Postpartum Class | $200
You're embarking on an adventure. Will it be a long, very bumpy road with lots of twists and turns, or mostly just some harmless turbulence and occasional tears and "what the fuck" moments? Perhaps a combination? Nevertheless, every journey will include sleepless nights, long days that blur together, and inevitably some amount of mom guilt. The fourth trimester is unknown territory, and every postnatal experience is unique and challenging in its own right.
The ™Epic Postpartum class takes some of the guesswork out and gives you the tools you need to create a solid plan. We address ways to care for your body, mind, and your emotional well-being. We cover keeping your home flowing more smoothly, your family's needs, and what to be aware of when considering postpartum mood and anxiety disorders and illnesses. Offered one-on-one, in-person!
Private Cesarean Power Class | $200
Cesarean birth presents with its own set of joys and challenges. This unique childbirth class is designed specifically for parents who are preparing to welcome their babies via a cesarean section. We discuss the joys, challenges, and common concerns parents have. In this class, we cover the birth process from beginning to end and the options you have for a unique experience. Offered one-on-one, in-person!
Hear From Our Students:
"The Jax Baby Company worked with my husband's crazy schedule. We had a fantastic experience. After this class, I felt calmer and happier about my choice. We also hired The Jax Baby Company for some help at home after we delivered. I highly recommend the c-section class and the overnight support to anyone planning for a c-section."