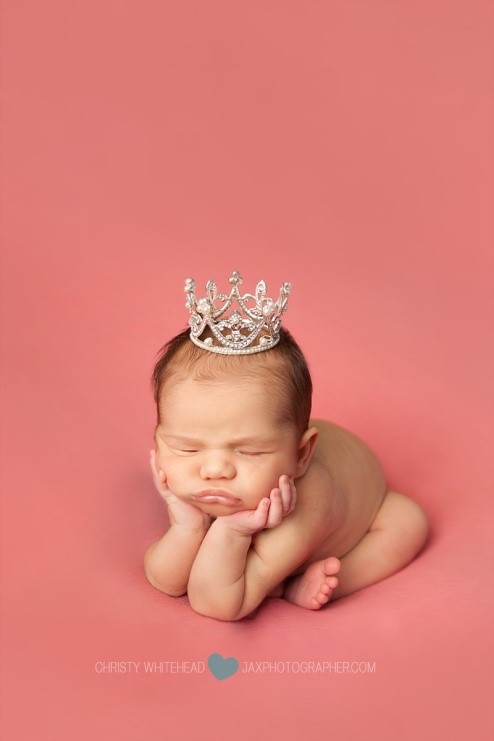 How to Take Newborn Photos Like a Pro
So, you want to learn how to take newborn photos like a pro? Then stick around! While I highly recommend professional portraits, Christy Whitehead, a professional photographer is sharing a few of her tips and tricks so you can get some homegrown shots of your own! During the first year of your baby's life, they change so much from day to day. Naturally, parents and grandparents want to capture moments in time through photographs!
First, let's talk lighting!
Lighting is your friend, but not all lighting is created equally. Have you ever noticed how sometimes photos have a yellowish tint? Yeah, you can thank those indoor lights. So let's look for some window/natural light. Position your baby so that their head is closest to the window, and their little booty is parallel to the window (if you want mainly face photo) or farthest away from the window (if you want full body). Keep in mind, shadows are your friend! Without shadows, you'll have a flat image and you won't see all those cute little baby rolls.
Next up, are angles!
Think about the angle you take the newborn photos from, you don't want to shoot so that you see up into the baby's nostrils, as that's not flattering and creates a "black hole." Don't forget to step back and get full body, as well as get close and get details. If you're doing a naked baby shot, you also have to think about all those little bits you don't want to share with the world! Push comes to shove, a little blanket can help cover things up. Don't be afraid to experiment. Shoot straight on, stand up higher and get a shot from above, etc. Even going on the shadowed side and shooting back at the baby can create a nice effect.
Positioning, positioning, positioning!
A large bean bag that's a bit stiff is a good place to start with posing your little one. Some large throw blankets work great over the bean bag to not only help keep your little one warm, but also give you a nice soft backdrop. Rolled towels are great for putting under the blankets to help prop them up. Always making sure they arr 100% safe or using an assistant.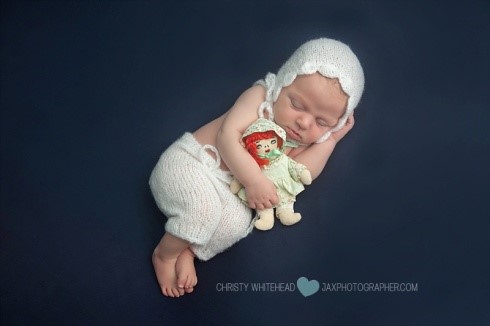 Props or No Props?
Some people prefer very simple, very clean newborn photos. Either baby completely naked or with a little outfit on. They want something that represents them and their personalities. I often try to do both. But it's something you'll have to think about when you're thinking about your own photos, what do you like?
Siblings or just mom or just dad with the new baby!
Depending on the older child's age, you might want to position them laying down next to each other, or have the older child sit on the ground with the new baby in his lap. (I would have a spotter though, just in case!)
Naked baby, skin on skin with dad is fun! Do you have some tattoos you enjoy showing off? If you're a military family, work for the police, or are a firefighter your uniform can be a great way to personalize your photos!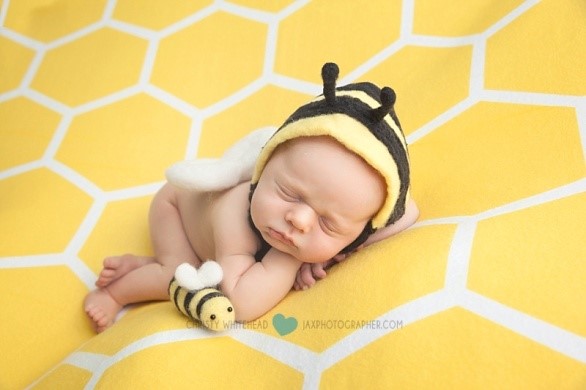 Other fun and super duper cute ideas!
Yummy tummy shots! This gets a nice cute shot of their whole little body laying down in that cute little pose, showing off their toes and fingers.
Baby got back! Putting a baby on their back can be a very natural pose for little ones. If your little one is prone to gas, the tummy pose may irritate him, but this pose is usually pretty comfortable.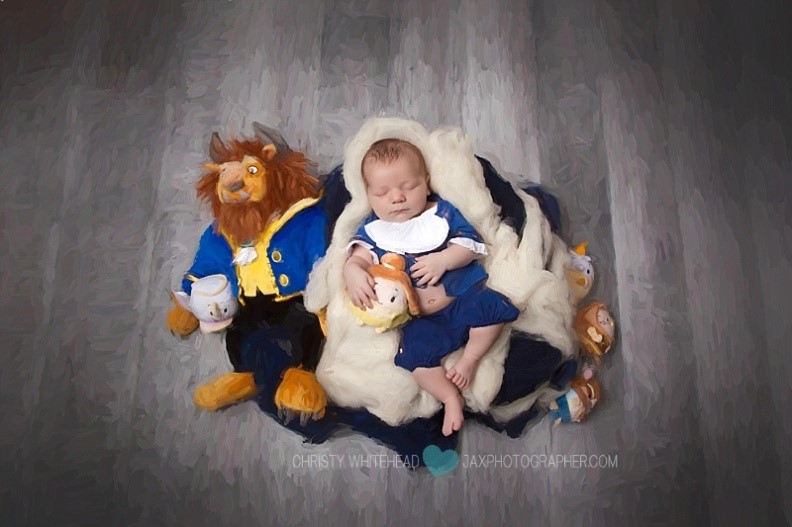 Buckets and baskets of fun oh my!
Using a bucket or basket is popular with newborn photographers Props. and special toys can be a great way to make your session extra special. Did grandma make the little one a special little doll? Have her hold it. Use the crib as part of your session, it's totally considered a prop! Pose your little one in there on their belly, face towards you and shoot them through the bars or from above.
There are two main types of newborn photographers.
Lifestyle photographers are photographing things as they happen naturally. Then there are studio or posed photography. The latter is how I typically shoot.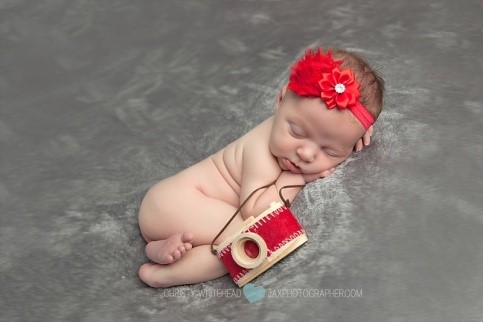 Cameras cell phones have come a long way!
Even as a professional, I still struggle to get great newborn photos from my cell phone, so if you're struggling, you're not alone! If you want some info about what I shoot with and what I recommend, check out the "For Photographers" section on my website for info about education and gear.
Safety first, always!
Always be careful using props, make sure they aren't too close to an edge or on an unstable prop. I have an assistant or parent sit near me, within reach in case they need to grab the little one. This may sound crazy, but if you're photographing above the baby, make sure the strap is on your wrist tight or around your neck. The last thing you want is to accidentally drop the camera on your little one! Avoid the use of glass jars, hanging fabric, and railroad tracks! Trust me on this, not only is it dangerous, but photographing on the railroad tracks is illegal. Should you want shots of your baby hanging in a beautiful wrap, call me, we can arrange a safe photo shoot you'll love and not have a heart attack trying to execute!
Even with all these tips, I'm barely touching on all the techniques, tips, and tricks to get the best newborn photos!
I've learned over the years how to create the best newborn photos while keeping your little one's safety in mind. If you're struggling to take photos of your little ones, or are just overwhelmed with the thought of it, give me a call, (904) 891-0359 or shoot me an email Christy@jaxphotographer.com

Christy Whitehead is a pregnancy, newborn and cake smash photographer in Jacksonville, Florida. She has been voted best photographer multiple times and has been featured on Buzzfeed multiple times for her fun and geeky photos. You can find Christy by going to her website: www.JaxPhotographer.com, visiting her Facebook page, and following her on IG!