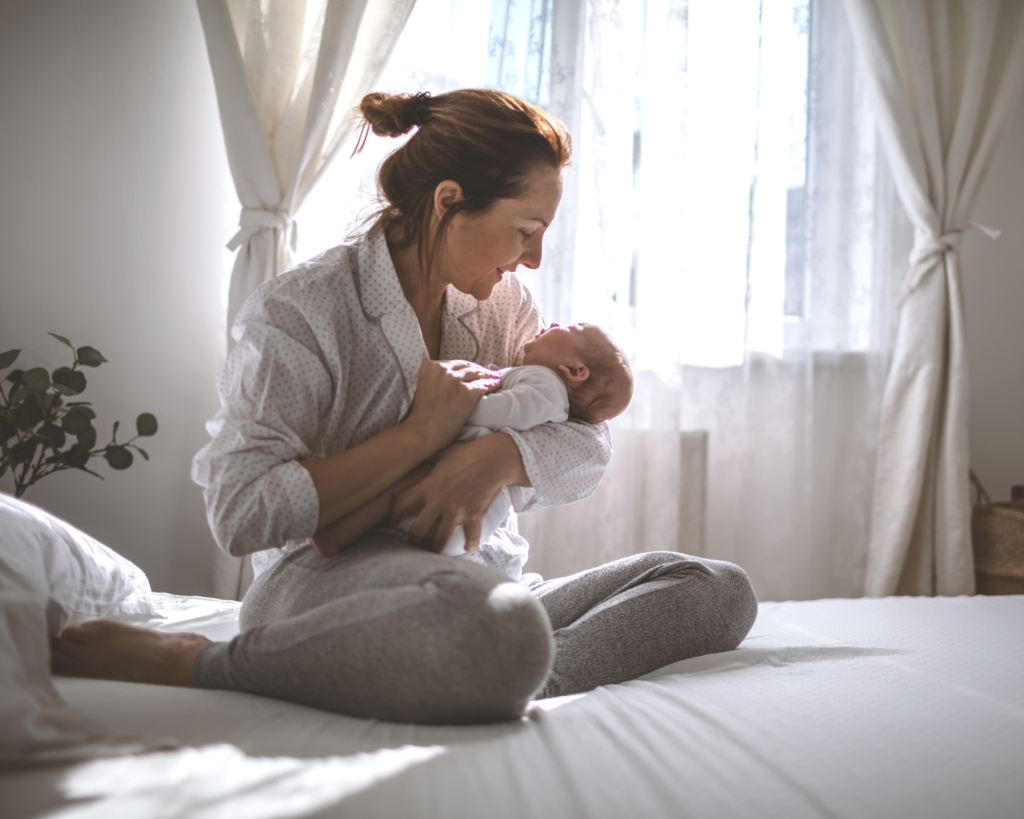 You're looking forward to enjoying your baby! Imagine for a moment you are at the beach, walking along the shoreline, feet in the sand, wind in your hair, and your growing baby bump leading the way. You stop for a moment, close your eyes, breathe in the ocean air, and feel the sun on your skin. You're thinking of how incredibly grateful you are and you're envisioning what life will be like with your newest addition; tiny toes, wrinkly skin, and all the precious moments that are to come–and pass so quickly!
In addition to looking forward to enjoying your baby, you also have some slight worries or concerns, nothing major, just some normal parent jitters. You quickly move past those jitters back to happy thoughts of warm snuggles, and newborn noises and smells!
It's what you are craving, it's what you're dreaming and obsessing over: enjoying your baby!
Some of the very best experiences happen when people purposefully make time for one another, to slow down and be in the moment. For a newborn that is normal, but for parents slowing down and being in the moment takes practice. To your newborn you are their entire world. The sun rises and sets on you. One day life will be very, very different. They won't always look to you with such desire and love in their eyes. Babies don't keep! Before you know it, they're no longer newborns, but infants, no longer infants, but toddlers, no longer toddlers but teenage dirt bags who will soon fly from the nest– and you'll never get that time back! It's gone forever.
Enjoying your baby does happen spontaneously, but it's rare when it happens that way!
Life happens, work happens, car troubles happen, other priorities happen, meals, laundry, cleaning, and appointments happen. More times than not you have to invest financially, mentally, and emotionally in the time to be present.
It's safe to say you'll never regret enjoying your baby over doing those things, right?! Of course, it is.
Enjoying your baby means making the time, now, not later! Later is now!
Everybody eventually longs for the gift of time whether they've realized it yet or not. This is especially true for parents and grandparents. Just ask your elders about when they gave birth or adopted their babies, what they regret and what advice they might pass on to you!
Think about it!
Time can feel as though it's standing still or as though it has rushed right by us. There are songs about time, "Cat's in the Cradle" by Harry Chapin and "7 Years" by Lukas Graham come to mind. Sadly, time is something you realize the value of AFTER it has passed.
"Where were you when I was pregnant, I really wish I had was someone to do exactly what you do, I wish I had more time with my babies" they say. "I was so sleep deprived I barely maintained; I didn't really get to enjoy it!" They see the value now that time has passed, and they tell others hoping to spare them from letting it slip away– the most valuable commodity in this life is time.
When you make the time, you're not only enjoying your baby you're imprinting upon your newborn! Bonding, and unrushed, tender, and sometimes silly moments, is time spent imprinting. These moments are crucial for both the newborn and the parent.
Lucky for you The Jacksonville Baby Company knows the importance of enjoying your baby! We provide the service that allows you to reclaim your sleep so that you feel rested, and your time so you can actually start enjoying your baby more!
Each member of our team is hand selected and has received the highest level of training by the owner, Elizabeth Luke. Our team is adult and pediatric CPR and first aid certified, fully vetted, follow American Academy of Pediatrics and the Center for Disease Control and Prevention guidelines.
We provide skilled one-on-one, hands-on help and support 24 hours a day 7 days a week! During the day, during the night, on the weekends and weekdays, while out of town for work or play, while in-town for work or play, we have you covered!
From infant feeding and development to sleep, solids and everything in between we are the experts in newborn care in the Northeast Florida area! Since 2013 we've provided first coast families with excellence, professionalism, and reliable support!
Packages for the First Six Weeks
Hello, Sunshine | $5040
Sweet Dreams | $7420
Transitions | $7980
Milestones | $11900
Want to try it out? Single shifts are great for just that!
Want more or something a little different? Custom contracts can be written to suite families specific needs!
Not sure what you may want or need? Contact us today we're happy to help you decide so you can start enjoying your baby more!