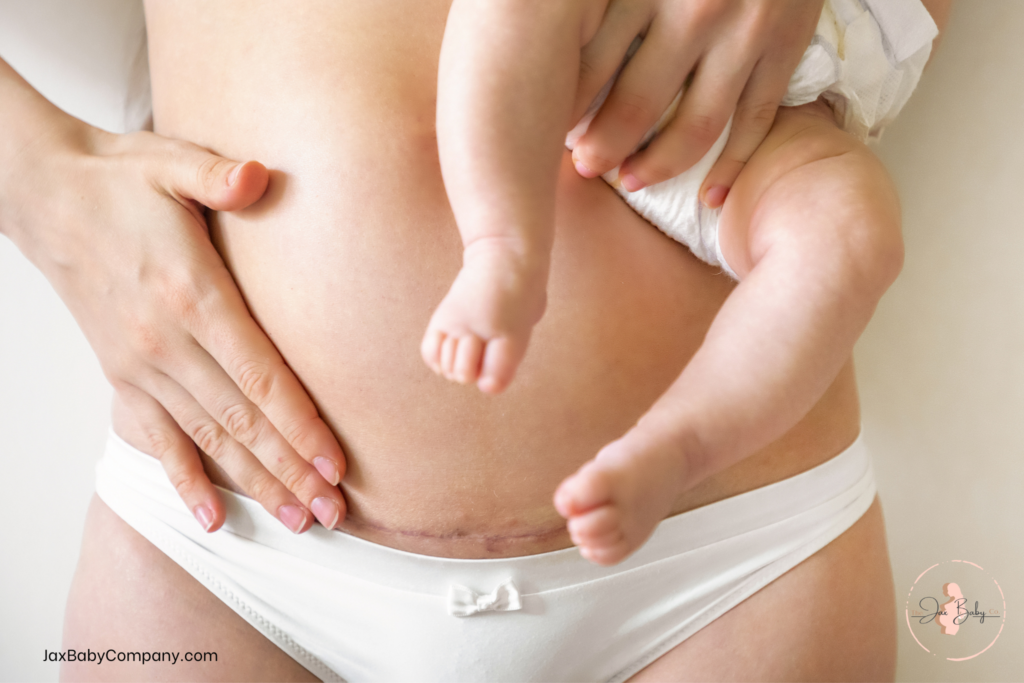 Cesarean Scar Massage | Why, When, and How
Cesarean scar massage is the topic of the day, and it's an important one! Several of our clients and a few friends have requested this so I will thoroughly cover why, when, and how. No matter how you feel about your cesarean or the scar it leaves behind this blog is for you! I'm not here to tell you how beautiful you are, how powerful your body is, or how to love the scar left behind. What I am here for is to explain the possible benefits of these massage techniques, when you should start it, and give you guidance on how to begin this massage in a way that works well for you.
Also, I'll include video demonstrations on how to do cesarean scar massage, because let's face it, videos showing techniques are so much easier to follow. Please, take time to read through this first because understanding why and when are as important as how, and we cover things in this blog the videos don't.
Before Beginning
Before you start cesarean scar massage you should be cleared by your OBGYN to do so. You can use this blog to discuss what level of massage is appropriate for you specifically! Do not massage until your incision has fully healed and become a scar. If you massage your cesarean scar prematurely you could cause problems like tearing, reopening, and infection.
Why You May Want to Do Cesarean Scar Massage
It's well known that massaging scar tissue and the surrounding areas can help increase blood flow, loosen up nearby tissues, and flatten bumps that incisions can leave behind. It may also help relieve some pain and itchiness and may help you regain sensation/feeling. Some woman report that they felt doing these massage techniques helped them experience less discomfort with stretching of the abdomen in subsequent pregnancies. Sometimes adhesions and scaring under the skin can be so severe they can cause lower back and pelvic pain. Bottom line, as long as you are cleared to do so by your medical provider cesarean scar massage can't hurt when done correctly, can be a relaxing part of your self-care routine, and may be helpful to you!
When Should You Start Cesarean Scar Massage
This will depend on a number of things and can vary from one person to the next. Generally speaking most people can start some of these massage techniques about 6 weeks after their cesarean birth. But, remember to discuss each of these techniques with your OBGYN and make sure you have their go-ahead before beginning. You should plan to keep your scar out of the sun for at least the first year and scar massage will not be helpful for scaring more than 2 years old.
How to Do Cesarean Scar Massage
Generally, the first 2-6 weeks after giving birth is the toughest! You're sore, exhausted, and likely caring for and learning all about your baby(ies). You need not worry about anything additional during this time and will need more support and hands-on help! Around two weeks post-baby your incision is healing nicely and by six weeks or more you may be cleared by your OBGYN for many things like these massage techniques, light exercise, lifting, use of tampons, and sexual intercourse.
You should NOT do cesarean scar massage until you have explicitly been given the go ahead to do so by your healthcare provider.
General Rules:
It can be slightly uncomfortable, BUT should never hurt
Begin gently and over time increase the intensity
It should last about five to seven minutes total; aim to do this daily!
It's best to do these yourself unless the person is licensed to perform these techniques
When you first begin cesarean scar massage you're only working with the skin of your abdomen, not the muscles. Please keep that in mind!
Begin each time by lying flat, legs out in front of you. Get comfortable. I think it's nice to use a lotion or oil to avoid friction, but that's totally up to you. Make sure you're breathing and not holding your breath throughout the process. Start with a very light massage to the abdomen in a clockwise direction avoiding your cesarean scar at first. After a few passes change directions to counterclockwise. If the oil/lotion dries apply more to your liking.
If you haven't intentionally touched your cesarean scar now is a good time to do so. Place your hand gently on top of it. Rest there for a couple of breaths. If putting your entire hand on it feels like too much, place two fingers there and work up to your entire hand. Just rest there.
Feel what you feel.
Feelings vary, all feelings are valid, all feelings are normal, and there are no right or wrong feelings.
After a couple of minutes and while remembering to breathe, use a feather and gently stroke around your cesarean scar. Then, move lightly back and forth, up and down, and in circles on and around the scar. Next time, do the same with a clean makeup brush, like a brow brush, blush brush, or similar.
Wash, rinse, repeat daily for a week or a two depending on your comfort level.
Remember, it should never hurt. Continue to breathe throughout the massage, don't hold your breath! Increase the intensity over time!
That's it! High five! That's all you need to do to start!
In Part 2: How to Do Cesarean Scar Massage on Yourself with Video I will demo how to do the following massage techniques:
Light as a Feather (explained here in this blog, Part 1)
Up & Down Technique
Side to Side Technique
Piano Fingers
Circle Technique
Rough Material Technique
Opposite Direction Technique
Pinch and Roll Technique
I hope you find our blogs super helpful. As always, we would love to hear from you in the comments and if you have a request for a blog, we are happy to put something together for you if it's within our area of expertise! Also, check out the search feature for topics!
Link to video demos:
From dr.annielinville on IG: C-section abdominal and scar massage!
From health2mama on IG: Watch the full video on IGTV
From the.vagina.whisper on IG: CESAREAN SCAR MASSAGE
Happy Birth & Parenting,
Elizabeth Luke