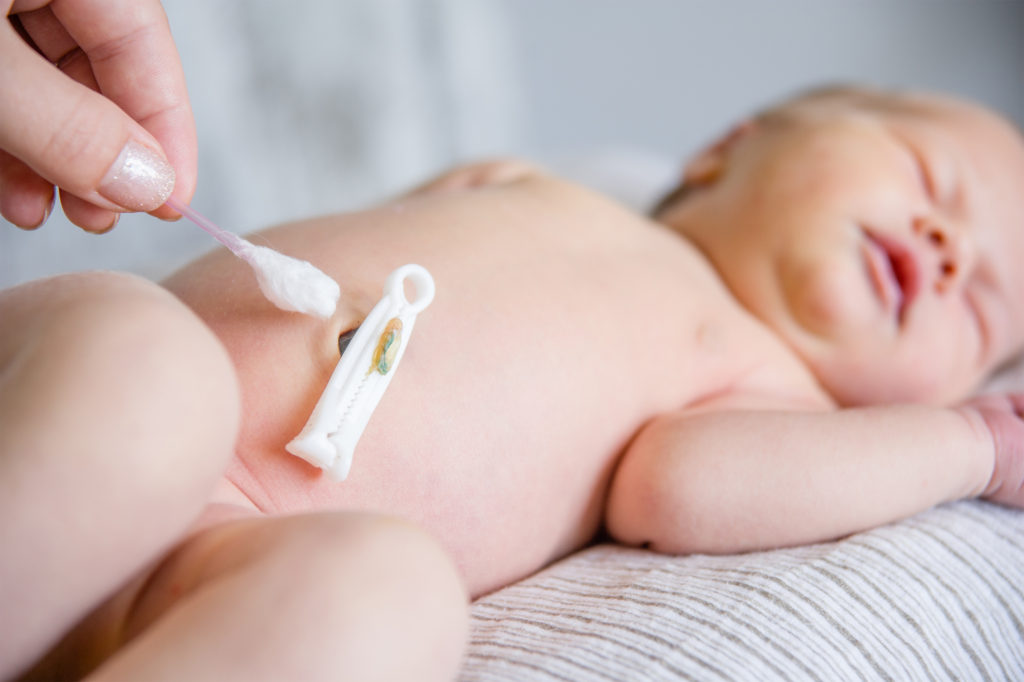 Umbilical Cord Care for Newborns | 5 Easy Steps
Writing an informative piece on umbilical cord care is right up my alley! When I'm not helping parents with all the things after their babies are born I'm teaching classes that include information on optimal umbilical cord clamping and providing placenta encapsulation services. During that time I often get to talk with parents about the anatomy of the placenta and cord and the functions of the umbilical cord during pregnancy. After birth, the umbilical cord is no longer needed as the placenta will no longer supply nutrients and oxygen-rich blood to the newborn. The umbilical cord is clamped and cut leaving behind a small nub of cord still attached to your baby's abdomen.
Clamped and cut, now what?
Your baby's umbilical cord should begin to dry out, turn into a stump, and eventually, it falls off. What kind of time frame are we talking about here? Usually, within one to two weeks after your baby is born the stump that once was the cord falls off. Until then, follow the 5 simple steps below unless otherwise directed by your pediatrician.
Umbilical Cord Care in 5 Easy Steps:
1. Only give a sponge baths IF a bath is needed.
Generally speaking, newborns don't need to bathe. A simple wipe down with warm, clean water and a cloth is sufficient. Pay close attention to areas that are moist and tucked away like the creases of their necks and their legs near their diaper area. Avoid their umbilical cord area. The idea is to keep it dry and sponge bathing your newborn will help with that!
2. Keep the stump dry.
You may hear all sorts recommendations such as putting breastmilk on it or applying Goldenseal and Echinacea powder to the area. Please consult your care provider before putting anything on the umbilical cord as it heals. Dry care is currently said to be the best care! There is research that suggests by putting anything on the cord you may be killing beneficial bacteria that is present naturally to help the cord heal on its own. What if my baby pees or soils the umbilical cord area? Don't stress it! Just wipe it clean using a cloth and warm water (no soap), and let it dry out!
3. Let the umbilical cord air out!
Keep the umbilical area exposed to the air in a controlled temperature environment as much as possible. Fold down the newborn's diaper, don't allow it to touch or rub on the cord! Won't my baby get cold with his umbilical cord area exposed? As long as you have him dressed for his environment he should be fine. For example, if your home is kept around 76 degrees Fahrenheit and you're wearing shorts and a tank, your baby will be fine in a shirt, diaper, socks, and loose blanket over her lower half. Better yet, snuggle up!
4. Leave it alone!
Let the stump fall off on its own. No pulling or picking at it! If there's some dried blood around the cord itself (that's normal) on the skin, you can leave it or wipe it off with a cloth and warm water (no soap), being careful not to get the cord wet. Can I do something so my baby will have an "innie/outtie"? Nope! There's nothing you can do to encourage or ensure your baby will have an "innie" or an "outtie" a belly button is a belly button! If it's meant to be it'll be!
5. Report any problems or concerns to your pediatrician.
Similarly to a scab, the stump might bleed a little when it's falling off, that's normal. However, you'll want to contact your baby's doctor if: The umbilical cord area oozes or has visible puss. The skin surrounding the cord gets red and swollen. If there's an odor or smell coming from the area. If your baby's umbilical cord hasn't fallen off by the end of week two, even without signs of infection.
Together we can keep dem' babies safe!
There isn't a general consensus for umbilical cord care everywhere. The American Academy of Pediatrics states that, "dry cord care without the application of topical substances is preferable under most circumstances in high-resource countries and for in-hospital births elsewhere; the application of topical chlorhexidine is recommended for infants born outside the hospital setting in communities with high neonatal mortality rates.20 " Basically, they're saying that that dry care is usually the best care in low-risk environments. In settings where the risk of bacterial infection is high, it may be prudent to use an antiseptic as per your pediatrician or general practitioner's recommendations.
Here's the recap:
keep it dry
sponge bathe only as needed
let it air out
leave it alone
report possible problems or infections to your pediatrician right away!
That's it, folks!
Sounds simple enough, right? For the most part, it is! Follow these recommendations, that of your pediatrician, and most importantly listen to your gut! Not familiar with that? Our postpartum and infant care specialists are amazing at helping you tap into that parental power! Book a consult with us today and grow more confident in parenting each day!
Happy Birth & Parenting,
~Elizabeth Luke