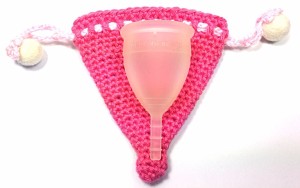 My Funny Menstrual Cup Story
My funny menstrual cup story is an informative blog with a plot twist! My story began with the discovery of this interesting wonder of the World in 2009. Maybe you've heard of menstrual cups before, but for many people these cups are a new concept. To my surprise menstrual cups have been around since 1937 and more readily available since the 80's!
Each month the women's uterus prepares for a baby. During the months that a baby isn't developing, the lining of her uterus sheds and brings about menstruation. To think, human existence relies on this… mind blown!
My first thought, "Why haven't I heard of these before?"
Cue my next thoughts…
How does that work? How messy are they to use? And, finally, why didn't my mom or friends tell me about this sooner? Why aren't the Black Eyed Peas singing about these 'Lovely Lady Cups?' I felt cheated to say the least.
My research truned up a plethora of information. We've included some great links in this blog to help you decide if or which cup is best for you, but let's be honest, you came to laugh at my funny menstrual cup story!
Wait for it…
The possibility of dropping it in a toilet, especially a public toilet, crossed my mind, but eventually I made my purchase and waited…you know, a whole two days! Amazon prime, free two day shipping for the win! The day came that and I anxiously opened the package and admired the simple design.
I had to try it out… yeah when my cycle returns. So, again I wait…
At last the day came. I read and followed the recommendations in the insert. It took a hot minute to get the hang of getting it seated correctly. I now know this is pretty common until you get the hang of it. Ha, there's something I never thought I'd say, or blog to the world about!
Once placed it wasn't much different than a tampon. A little bit of leakage on the first insert each month, but not much at all. I found that by running my finger around the rim inside it helps to form a better seal and avoid leaks. Some say a deep squat helps to seal it.
How long can I really wear this thing before I need to empty it? I know what the recommendations say, but come on; surely it will fill up quick! Nope, not at all. I empty it three times a day and it's never nearly as full as I imagine it will be.
Over the next few months I utilized this amazing cup without any issues, whatsoever, until early one morning…
Warning: What I am about to share with you may be T.M.I. for some, but it could save you from the absolute disgust and possible mental anguish I experienced. Ok, you've been warned!
Half asleep I got up, sun still beneath the horizon and stumbled to the bathroom to pee.
Since the cup felt like it was sliding down a little I knew it need to be emptied. I grabbed the tip, squeezed to break the seal and pulled it out gently. In one easy pulling down motion the slippery little sucker slide out, emptied itself as it jumped right out of my hand and down into the toilet!
Oh shit! Now what?!?!
I stood up, flipped the light on, and looked in the toilet in horror now wide awake. I bent down closer and peered into the toilet frantically and could not see it at all. The water wasn't just clean, funky toilet water. As you can probably imagine without much details given it was difficult, no it was impossible to see this silicone menstrual cup that's rather translucent.
Side note; Damn I should have opted for the purple Mooncup.
Worried the cup would go down and get stuck in the plumbing and cause issues, I did the unthinkable. I reached in. Oh, yeah, I confess! I've dealt with the funkiest of funk, I have kids after all, but this this menstrual catastrophe freaked me out in more than one way.
To think, I laughed at the section in the insert about emptying in the shower. I wrote that idea off and I thought, ain't nobody got time for that! Ladies, the alternative is this, and this is gross.
Think that is shocking?
Imagine the despair I felt when I couldn't find it. Just gone! Nowhere to be found. Not in the toilet, nor on the floor, I was not dreaming, it was poof just gone. Disappearing menstrual cup, they didn't mention this little tid-bit of information when I read the insert. Where could it have gone? I grabbed a glove, threw it on, and reached in again. I cringed as the water went into the top of the glove. Why?!?!?
I could not believe this was my life at that very moment. It was not there, I have NO answer as to where the Houdini cup went. I mean, doesn't one have to flush the toilet for it to go down?
Scrubbing my hands in disbelief, like a mad woman. I start thinking about how I will explain this to my husband.
Then I think, I wonder if anyone else I know has had this happen to them. I reached out to some of my lady friends who have been using these cups for a while, because unlike me they knew about this wonder of the world. As it turns out several of them have dropped their menstrual cup in the toilet too.
Hello! There is a club for all of us menstrual cup losers! Ha, see what I did there!
They however found theirs. Some tossed it, others washed and boiled it to sanitize. This was not my luck today. So, what do I do? Imagine the look on the plumbers face if I have to explain this to him. Yeah, not happening.
Before telling my husband I decide I should go to the store and get a kit so he can pull the toilet up and retrieve the cup before it causes problems further down the sewage line.
I put a note on the toilet that said, "Do not flush."
Low and behold as I return home he's coming out of said bathroom and asks me what happened. To which I re-lived every single detail. I then told him I felt very bad about it and showed him the supplies I went to two stores to get.
He laughed!
He laughed and then he asked me how bad I wanted it back. I wasn't sure I wanted it back, but I didn't want it to mess up the plumbing. He had himself a nice laugh as he walked to the bathroom, and then he flushed it. Yep, he flushed my cup. I wanted to cry. Surely this would force it further into the pipes, right? He explained after he stopped laughing that the sewage pipes are 4 inches in diameter and that flushing it would cause no harm.
Looks like I panicked for nothing! I am persistent and loved my cup so much that I went on to buy another Diva cup and a less expensive cup called the Mooncup and I love both equally.
Do you have any funny or slightly weird menstrual cup stories to share? If you do and you dare to share we would love to hear from you!
I wish knew about the cup sooner because it's possible that:
I wouldn't have worried about toxic shock syndrome.
I would have saved thousands of dollars on my monthly cycle.
I would have made less negative impact on our Earth.
It's also quite possible that someone may have just warned me to hold onto the slippery sucker in the wee morning hours. Even better, just empty in the shower in the morning!
Authored by Elizabeth Luke, owner of The Jax Baby Company, serving families in Jacksonville, FL and the surrounding areas
This video uses an anatomical model to show you how to insert and remove your menstrual cup.
Here are some links to help you in your search for the perfect menstrual cup or two!
http://menstrualcup.co/compare-menstrual-cups/
https://menstrualcups.wordpress.com/category/comparisons/
http://menstrual-cups.livejournal.com/473758.html