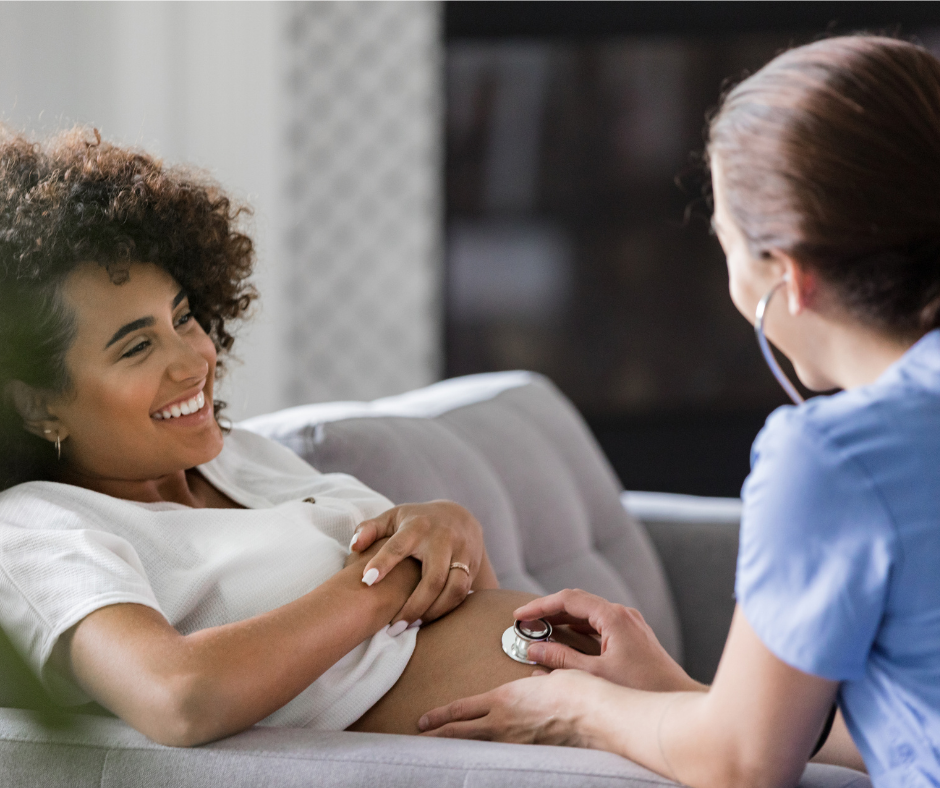 If you find yourself wondering, what should I ask at prenatal visits?
Don't worry! We have compiled a list of great questions to help you! After all, pregnancy brain is alive and real, and giving birth is kind of a huge event in the life of a person! Here are 22 questions to ask before you give birth!
As with everything in parenting, feel free to pick what you want and leave the rest!
Keep in mind the more questions you ask the more information you can gather, but there are rabbit holes. If you like the list in its entirety I suggest asking a few questions at each visit. Reflecting on the answers and revisiting those of most importance to you. What's important to each parent will vary!
22 Questions to Ask Before You Give Birth
Who can be with me in labor?
We are living through some crazy times right now. COVID has ensured stricter policies have been put into place. Many hospitals are only allowing one support person. Some are requiring your support person(s) to show proof that they've received their COVID vaccine.
At what point should I come to the hospital?
Most doctors follow a 4-1-1 or 5-1-1 rule meaning contractions coming every 4 or 5 minutes apart, lasting 1 full minute long, for the duration of at least a full hour before you come in. Everyone is unique and your labor may require you to come sooner while others may require them to come in a little later.
Do I need to bring anything special?
For the most part, you will have everything you need provided to you at the hospital, but it never hurts to ask what's provided and what isn't. That way if you want some of your favorite creature comforts you'll be prepared. Likewise, you won't have to bring things they'll have there for you!
What can you do to help me avoid tearing/episiotomy?
Maybe you're not fearful or at least a little nervous about tearing during birth, but if you are this question is even more important. There are a number of things that can be done to support your perineum during the second stage of labor. You'll likely want to find out what your provider will do to help minimize tearing where he/she/they can.
In addition to those questions here are several others to consider:
What is your preferred method of induction?
What are some reasons you may want to induce?
What is your cesarean rate?
How many weeks are you comfortable waiting for me to go into labor on my own?
What steps would you take if I go past that number of weeks?
For what reasons might I need a cesarean?
Will I be able to move around in labor?
Can I labor in the shower?
If my labor is long can I eat?
How will the hospital help support me in my chosen method of feeding our baby?
How do you feel about circumcision?
Do you support our choice to leave our baby's genitals intact?
What are some ways you would support us in making hard decisions?
What if I want to use another way to feed my baby in the hospital
Will the hospital send a lactation consultant to my room?
What situations might limit me from breastfeeding my baby?
What if our baby needs to go to the NICU?
Who will be there if you don't make it in time?
Now, when should you ask these important questions you wonder.
Some questions will lead to more questions, others will lead to a satisfying smile and a nod. When you ask is up to you, but some questions may help you communicate with your provider your needs and help you understand if you and your doctor are on the same page!
The same page becomes pretty important as you move closer to your due date.
Bring it up whenever you feel comfortable, but I would certainly do so by the beginning of your second trimester. When The Jax Baby Company team was supporting parents through labor we would discuss many of these topics with parents a few times before they gave birth during our prenatal visits. In our Confident Birth & Baby Class we cover what is science and evidence-based, what's not, and how to communicate with your providers no matter what you want or need. So, taking one of our classes before discussing it with your doctors can actually be super beneficial and may help you nail down what you would really like from your birth experience.
Often, parents are relieved to hear that many of their preferences like optimal umbilical cord clamping, skin to skin, and movement/position changes in labor- are almost all universal, standard practice now among hospitals and providers. It's important to ask though! A great childbirth class doesn't glorify a certain type of birth, it helps you get a clear idea about pain control, preferences, and communication. Did I mention how important communication is?
Every birth is unique and beautiful in its own right!
The Jax Baby Company wants you to have the experience that is right for YOU, in the moment, not someone else's experience. I think we can almost all agree that none of us can control the process of birth, but we can all adjust to our expectations, even when we don't want to. If there are specific things you are worried or anxious about, we can discuss them in our one-on-one class. We can talk about what would happen if they occur and it may ease worry to walk through the scenario together. That's one of many benefits of taking a private class!
If you found "22 Questions to Ask Before You Give Birth" helpful, please share it with others and leave us a comment. We would love to hear your thoughts!
If you're specifically looking for a midwife you can also check out this list.
Happy Birth and Parenting!
Elizabeth