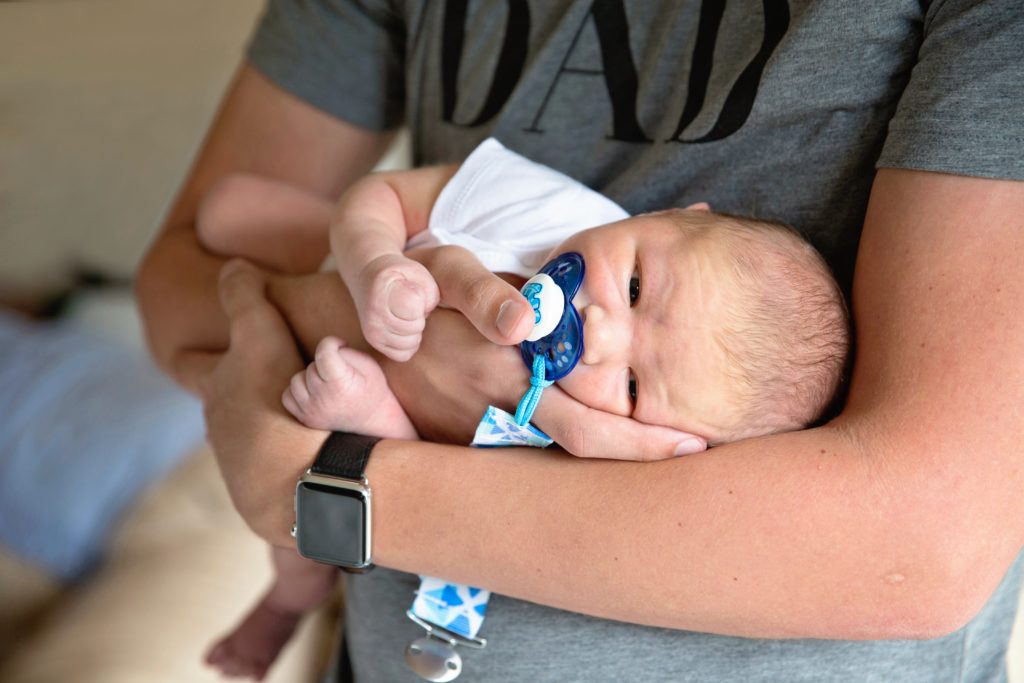 Keep Your Baby Safe During the Coronavirus Pandemic
We know many of you are remaining calm, cool, and collected, but are silently wondering should you be doing more to keep your baby safe during the Coronavirus Pandemic. We have some words of advice during this time.
First, as you're probably already doing, remain calm and don't panic.
Panic is stressful to the body and we know that large amounts of stress put our immune systems at risk. COVID-19, also known as the Coronavirus impacts those with compromised immune systems, infants, and the elderly hardest. So keeping calm really is numerous uno.
Secondly, what do we know about COVID-19?
The best way to prevent getting COVID-19 (coronavirus) is to avoid being exposed to this virus. So, how's it spread? The virus is thought to spread mainly from person-to-person. First, between people who are in close contact with one another (within about 6 feet). Secondly, through respiratory droplets produced when an infected person coughs or sneezes. These droplets can land in the mouths or noses of people who are nearby or possibly be inhaled into the lungs. The incubation period is asymptomatic for at least 14 days. That means anyone can appear well and without a single symptom for 14 days. Two full weeks! We also know that someone with a good immune system may not react or display the same symptoms as a newborn, the elderly, or individuals who are immune-compromised.
Another way that COVID-19 is spread; from contact with contaminated surfaces or objects.
It may be possible that a person can get COVID-19 by touching a surface or object that has the virus on it and then touching their own mouth, nose, or possibly their eyes, but person to person contact is thought to be the number one way it's spread. Basically, anyone could have it, so there's that.
COVID-19 and Pregnancy
Pregnant women experience changes in their bodies that may increase their risk of some infections. What we do know if that with viruses from the same family as COVID-19, and other viral respiratory infections, like influenza, women are at an increased risk for developing severe illness. It is always important for pregnant women to protect themselves from illnesses. How? By following the same guidelines listed below.
Here's what you can do to keep your baby safe during the Coronavirus pandemic:
This is going to sound redundant, but wash your hands all the way up to your elbows well with warm water and soap for a minimum of 20 seconds. Wash often and avoid touching your face with your hands. Remind your family and anyone who comes into your home or around you and your baby.
Social distancing measures have proven to slow the transmission of disease and save lives. It's proven to help! So social distancing is next on our list.
Avoid going out unless necessary. If you must go out avoid anywhere there's a crowd when you can. Public or private events, even grocery shopping during peak hours is not a great idea. Remember social distancing can and does help! I would cancel any non-essential appointments or outings. When you must go out if you have the option to leave your baby at home with a caregiver or partner do that as a first option.
Other things you can do to keep your baby safe during the Coronavirus pandemic:
Wipe down cart handles well with hand wipes or hand sanitizer applied to paper towels. Keeping a few white hand towels in your car to bring into stores to cover the cart handles is a good idea as well. Then you can toss them into the washer and bleach those suckers.
Use your elbows or your hand covered with your shirt or that hand towel if you brought it to open doors. Doorknobs and light switches are crawling with germs.
Change your baby in a safe place outside or in the back of your vehicle right before going into the store and or right after coming out of the store instead of using the bathrooms in the store. Most stores are on heightened alert and are being vigilant to sanitize more often, but again the bathroom is an enclosed space and you can't be too careful during this time.
Make sure all caregivers are feeling well (although remember, people are asymptomatic for at least 14 days). Have each caregiver remove their shoes at the door, change into clean clothes upon arrival and wash their hands up to their elbows well with warm water and soap for a minimum of 20 seconds before touching your baby.
Breastfeeding provides protection against many illnesses. If you're breastfeeding your baby it's highly recommended that you continue to do so. Giving toddlers breastmilk during this time isn't a bad idea at all! If you have a confirmed case of COVID-19 the decision to continue breastfeeding, stop breastfeeding, or to pump milk and have someone else feed your baby should be made between you and your medical providers. Breastfeeding provides infants with lots of antibodies and it's likely your body was already producing antibodies specifically to help your baby fight this virus before you ever knew you had it. Again, remember people with Coronavirus are asymptomatic for at least 14 days before visible symptoms.
Are you still wondering if there's more you can do to keep your baby safe during the Coronavirus pandemic?
Here are our final 5 recommendations:
Just say no to travelers, visitors, likewise traveling or visiting, get-togethers, and playdates during this time.
Create a plan just in case you, your partner, or you both come down with the virus. How will you care for yourselves? Do you have what you need at home to get through the next few weeks at home? Who will care for your baby if you get sick and cannot?
Disinfect high-touch surfaces daily in household common areas (e.g. tables, hard-backed chairs, doorknobs, light switches, remotes, handles, desks, toilets, sinks).
Launder items including washable plush toys as appropriate in accordance with the manufacturer's instructions. If possible, launder items using the warmest appropriate water setting for the items and dry items completely. Dirty laundry from an ill person can be washed with other people's items.
Most common EPA-registered household disinfectants will work. Use disinfectants appropriate for the surface.
Options include:
Diluting your household bleach.
To make a bleach solution, mix:

5 tablespoons (1/3rd cup) bleach per gallon of water
OR

4 teaspoons bleach per quart of water. Follow manufacturer's instructions for application and proper ventilation. Unexpired household bleach will be effective against coronaviruses when properly diluted.

Alcohol solutions.
Ensure solution has at least 70% alcohol.
Other common EPA-registered household disinfectants.
Products with EPA-approved emerging viral pathogens pdf icon[7 pages]external icon claims are expected to be effective against COVID-19 based on data for harder to kill viruses. Follow the manufacturer's instructions for all cleaning and disinfection products (e.g., concentration, application method and contact time, etc.). Complete disinfecting guidelines are found here.
The Jacksonville Baby Company is being proactive.
We want to keep your baby safe during the Coronavirus pandemic. If you or your baby is sick, please stay home! If you or your baby have flu-like symptoms contact your providers away for advice, testing, and treatment. We are reaching out to current and past families we've worked with to make sure they feel informed and have what they need during this time while also trying to reduce the risk of infection. If you have any questions or pressing concerns please let us know.
Lastly, if you or your immediate family tests positive for the Coronavirus and you need supplies please do not hesitate to reach out to us. We will help in any way that we can including dropping off supplies in a box at your driveway. Practice good hygiene, remain cool and calm, and most importantly be kind to one another.
Happy Birth & Parenting,
~Elizabeth