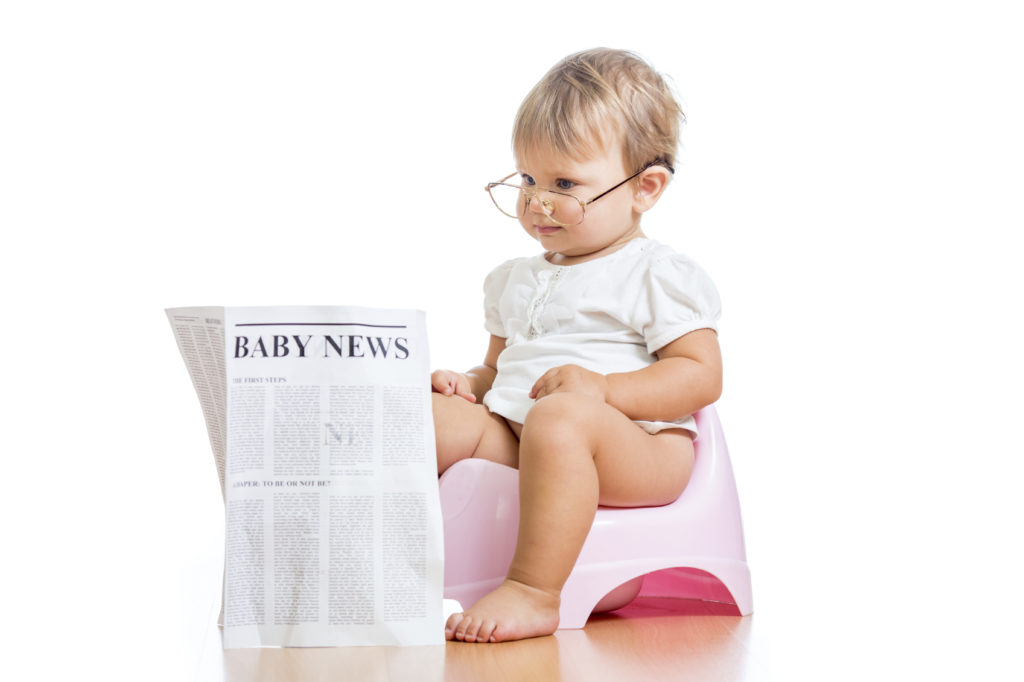 Potty Training Tips for Success
Potty training is another crazy adventure you'll embark on as a parent. There are plenty of people out there to tell you exactly how potty training is done, spout off sure-fire ways that work for every kid, what you're doing "wrong", and how you can do it "right". The Jax Baby Company are not those people. We don't believe in a one-size fits all model of parenting. Each person, family, and situation is unique and should be treated as such.
Our first potty training tip is the most important piece of the potty training puzzle. Watch for signs of readiness.
You're paying attention to the individual child. Often times we get in a hurry to get to potty train the child and we forget that the child is an individual and his timing is his own. This doesn't mean we're waiting for the child to head off to kindergarten, but we are saying that he may be 3 before he is ready. Ask yourself, is my child ready to potty learn? How do I know when my child is ready? If your child isn't showing most of the signs of readiness you're almost guaranteed a child who protests potty training and endless accidents too. So, what are the signs of potty training readiness?
Here are some general signs:
your child is telling you before they wet or soil themselves
wanting to be changed after they poop or pee in their diaper/pull-up
pointing to the potty or wanting to sit on it
hiding to pee or poop in their diaper/pull-up
waking up dry after a nap
removing her diaper/pull-up on his own
if your child can follow multi-step commands such as: please hand me the cup and plate and then wipe your mouth
your child has reached the "I do it" or "me do it" stage
your child seems to be looking for more independence and is needing less help
Make it a family affair!
Look, everyone poops and pees, even mommy! Have them join you in the bathroom from a very young age, as soon as they can sit on a little potty, let them sit with you. Read a short book to them while they sit and you sit. Children of all genders can start potty training by sitting on the toilet. This isn't a must, but I tell you what, you'll save yourself from having to do a lot more cleaning up by having them sit.
Avoid potty training during a big transition.
By big transition I mean a divorce, marriage, or a death in the family, moving or having someone move in or out of the house, daycare switch or introduction to a new nanny, a very recently weaning from breastfeeding, someone in the home has just given birth, or you've brought a new dog or puppy into the family. These are huge changes and while children are resilient they still need time to adjust and settle in and potty training in itself is a huge transition.
Make sure you and all caregivers are 100% on board with the process and have the time to commit and follow through.
Patience, consistency, and time are key factors in potty training success! Be consistent, totally chill and positive throughout, wash, rinse, repeat. They will get it, it may happen quickly, or not, both are normal. While it can be frustrating, do not let it get at you. Children can begin potty training or potty learning as some call, it as early as 10 months and as late as 3 or 4 years old. Most will start between 2 and 3 years old. In the United States, most boys average about 39 months old while most girls average about 35 months. This age has risen since the 1940's. We won't even get into discussing Elimination Communication (EC) in this blog series, that's for another day. Potty training will happen in time, don't feel pressured to rush, you, your child, and your home will survive the accidents along the way. Promise!
The Jax Baby Company stands by your parenting choices, potty training style, and individual needs.
Our team is there, in homes helping families just like yours develop a plan, set the ball in motion, and adjust as needed. We hope you found these potty training tips helpful and you've gained confidence from your reading. More sleep, healthy snacks and meals, expert advice, science-based resources and all of it comes from judgment-free and friendly specialists. Don't wait, put us on your team today!
Happy Birth & Parenting,
Elizabeth Luke