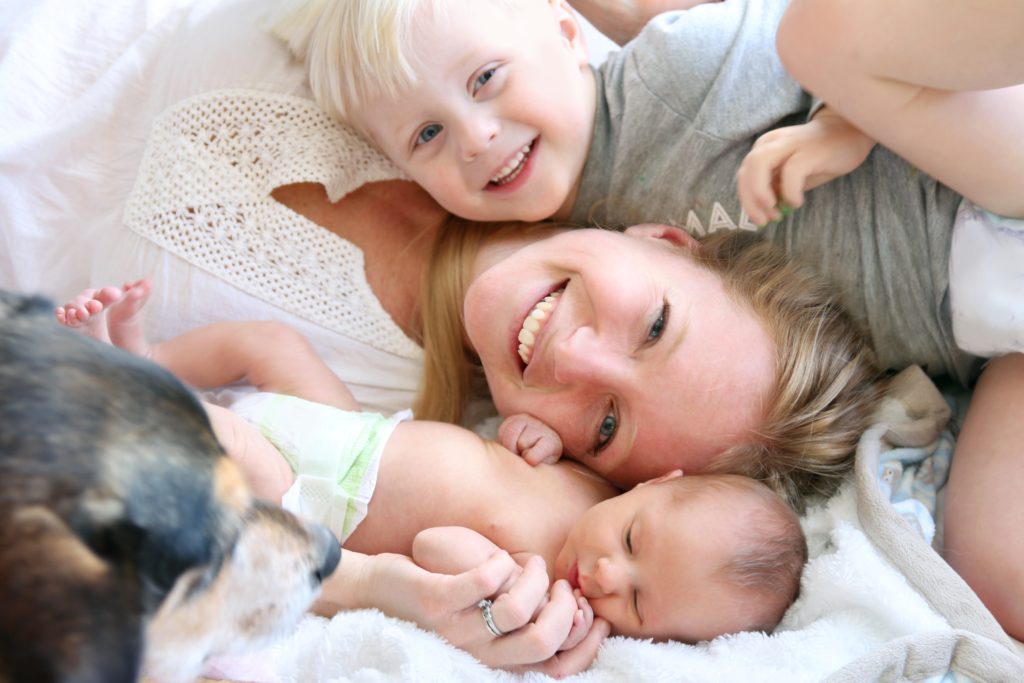 What is self-care for the newly postpartum mother?
Meredith Brooks and Alanis Morisette were on to something when they sang the song, "I'm a bitch!" Think about it…
I'm a Bitch, I'm a Lover
I'm a child, I'm a Mother
I'm a sinner, I'm a saint
I do not feel ashamed.
I'm your hell, I'm your dream
I'm nothing in between,
You know you wouldn't want it any other way.
As mothers, we wear so many damn hats that we often forget to STOP and take the time we need and absolutely deserve to care for ourselves. In the early weeks after childbirth self-care very much looks like brushing our teeth two times a day, finishing a meal while it's still hot warm, and saying "yes" to ourselves more!
10 Ideas for Self-Care for the Newly Postpartum Mother:
So Naturally First, Say "Yes" to You
Yes, yes, yes! You deserve to say yes to you instead of do, do, doing for everyone else all the time. You have permission to take care of you! You deserve to have others take care of you! Saying yes to you also means relinquishing some responsibility and control over the things you normally task yourself with. Even if it means things are done in a way you would never do them yourself! Even if they're not done at all. It will be okay, everyone will survive, everyone will manage! Prioritize your priorities, scale back, and step away. Think about much more how appreciative everyone will be , when you return to those duties once again.
Watch a Comedy or Binge Watch Your Favorite Uplifting Netflix or Hulu Series
The right comedy can change your day! Like sneezing, seeing others laugh is contagious. So, get a shower (and brush your teeth), climb into a comfy spot, and laugh your ass off! Need some ideas? Off the top of my head: Jo Koy on Netflix is hilarious! What's on Your F*ck List is a quick Ted Talk that rocks!
Schedule a Video Chat
Everyone has their person! The person who lifts their spirits, who makes them smile and laugh, or who will just offer an ear without trying to fix anything! So reach out to your person, set a date (very soon), make yourself or ask your postpartum specialist to make you a warm cup of tea, grab a piece of your favorite chocolate that you've had stashed and enjoy! No chocolate? Oh girl, phone a friend fast!
Let the Sunlight In
If you can, just sit outside, it'll help lift your spirits! If you can't pull back those blinds while you're awake and bask in the rays of the sun's light. Read a book, listen to music or just be present while paying close attention to your breath. Allow your body to feel and breathe. Another way to enjoy the sunlight is while listening to a great audio-book or relaxing music!
Eat a Nice Dinner
Perhaps you have a feel good, comfort food meal? If you do, request that meal bprepared for you. No preference on the meal? Your postpartum specialist, family, friends, or partner can freestyle or use a recipe they pull and surprise you! Actually I love that idea, relinquish that and put the metaphoric ball in their court! Enjoy that meal all alone if you prefer or with someone you love. While I'm here I'll just mention briefly how important healthy snacks and staying hydrated are for the newly postpartum mum! Snack, snack, snack!
Guided Meditation
Meditation can help by quieting the overactive mind, the racing thoughts. You can begin identifying with the silence that exists between every thought or action. Centering yourself is a skill that anyone can learn, once they have the intention and the experience of what it feels like. With an amazing teacher, hurdles can be overcome. The good news is anyone can meditate! Guided meditation is the perfect start!
Numerous scientific studies have found meditation to be effective in helping to treat anxiety. One study, published in the Psychological Bulletin, combined the findings of 163 different studies. The overall conclusion was that practicing mindfulness or meditation produced beneficial results, with a substantial improvement in areas like negative personality traits, anxiety, and stress.
Create a Banner with Positive Affirmations
Positive self-talk, notes around your home, and a lovely banner hung to remind you how amazing you are! One part of your journey does NOT define who you are as a person! Great mothers are tired, they're short-tempered, they don't all wear makeup every day. Your home can be a mess, some events can be missed skipped, you can say no, and kids don't always have to be entertained for you to be a "good" mother! Create a banner, fly your flags all over your home, car, or anywhere else you need to so that you are reminded that you are amazing!
Pedicure
If you're like most moms your feet take a beating during pregnancy and the early postpartum. They're one of the most abused parts of your body, aside from the place where your adorable crotch-fruit made their grand entrance! Your feet deserve pampering. Ask for an extra few minutes in the chair, put on your sleep mask, plug in those ear buds and snooze! Enjoy that shit, you deserve it!
Haircut and Style
All that shedding, all that postpartum sweating = nighttime yuckiness! Get out and get your hair did! Seriously, ask your stylist to take an extra few minutes on your wash! Tell her you NEED that! Ask her to brush your hair a little longer! Then take a long slow walk down the Target diaper aisle like the sexy Wonder Woman you are!
Handwork not Hard Work
Relinquish your mom duties, close the door, and pop in a pair of earbuds so you're not tempted to go "help out" and create some magical shit!! Paint, color in an adult coloring book, crochet, or knit! Get crafty with it! Busy your hands and free your mind. Say "YES" to you!
We hope you find these ideas helpful!
In addition to taking care of one's self it's important to get the medical help you need to be the healthiest you can be! Do not hesitate to reach out if you need a referral to see a medical provider or a postpartum counselor. This list was created with love and compassion for all of you new moms out there! Self-care for the newly postpartum mother doesn't have to be tricky or hard, it just has to allow the mother to take time for herself so she can heal and give her best self to those she loves most! Also, once you've been cleared by your medical professional find a workout routine that is right for you! Exercise does wonders for mental and physical health!
Happy Birth and Parenting!
~Elizabeth Luke