The Only Birth Class Of Its Kind In Jax That Sets Parents Up for Success
Devastated, broken, shocked, and disappointed are not words that anyone wants to use to describe their birth experience, let alone feel those things deeply as their own truth. That, however, is the reality for many parents! First Coast Doulas offers the only birth class of its kind in Jax that sets parents up for success in all birthing situations.
With celebrities like Serena Williams, Justin Timberlake and Jessica Biel bravely sharing their stories, more people are realizing that their reality is unfortunately not all that uncommon.
Preparing for the gamut both during and after birth is actually very wise! Too many times birthing people fall into the "if the mind believes it the body will achieve it trap", to later find themselves experiencing overwhelming sadness and guilt. That is no way to begin parenthood!
Classes like hypno-yada-yada, and several other method-based classes only teach about the way to have a "natural" or "vaginal" birth.
Therefore, those classes put emphasis on "natural" and "vaginal" being of superior importance over all else in birth. With one in three births ending in cesarean delivery in 2018 why on Earth are parents still being taught that there is only one way to feel good about their birth experience? Why are parents being set up for failure from the get-go?
I don't care how science-minded you are or how hippy, crunchy, natural you are, this class IS for you! Birth can happen safely in homes, hospitals, and birth centers! This class prepares you for it all!
Since 2013 The Jax Baby Company has been at the forefront in Northeast Florida and Southeast Georgia as forward-thinking, wave-making, pioneers for birthing and postpartum families! We know that the power of a birth plan doesn't lie in the execution of the plan, but rather the knowledge you gain and the communication your have in the process of creating it! We know how important and impactful birth is and we have been setting parents up for true success since day one.
The Jax Baby Company teaches the only birth class of its kind in Jax that sets parents up for success no matter how they give birth!
The Confident Birth and Baby Class is woo-free, science and evidence-based classes that do not focus on one way being best or right, because that is just silly and complete and utter bullshit!
So, what does the only birth class of its kind in Jax that sets parents up for success teach you're wondering!
We teach you the stages and phases of labor, how you can recognize those while at home, how to know when you're in labor, and how you might feel and be comforted during each stage and phase. You can learn how to feel safer and fear less! You'll be taught tools you can use anywhere; at home alone, at the store surrounded by people, in the hospital shower, heading into the OR (operating room), during your cesarean, while squatting, lying, or doing head-stands (we joke), with pharmacological pain meds, and without any at all.
We help you get to the heart of what satisfying means to you on a deeper, much more fulfilling level! Your birth partner can discover their own personal support style so that you feel comfortable with their support and they feel empowered in their role!
Not only do we teach on birth, but we also cover the first few weeks after birth. Ya know, the time you've really been waiting for! Birth is one day, maybe two, but baby snuggles, pictures, adorable outfits, and all the other things like night-feedings, newborn cues, healing after birth, emotional and physical warning signs and what you can do to not only survive but thrive after birth, those last much longer!
Yes, thirve baby!
These classes help set birthing people up for success by teaching them about both vaginal and cesarean birth because both can be equally satisfying and beautiful. Both can be empowering, both ways can be the "best", and both can be considered "natural". Remember torandos, water, and death are natural. Natural doesn't always equal best!
"How," you ask?
Take a class and find out! What are you waiting for? Taking this class is the single most important thing you can do to prepare for birth and the early weeks of parenting!  This is a small investment in the big scheme of things!
Don't take our word for it, read our reviews; on Google, Facebook, and our website!
For the next 4 weeks ONLY The Jax Baby Company is offering an exclusive package for those who read our blog! Get the Hello Sunshine postpartum package and The Confident Birth and Baby Class, an $1,800 value, for $1699. That's a savings of a whopping $101.
[ezcol_1half]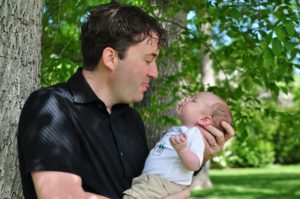 [/ezcol_1half] [ezcol_1half_end]
[/ezcol_1half_end]
Mention this blog when you book and receive this exclusive offer! Get ready to feel more prepared, relaxed, and 100% supported as you transition into parenting!
The Jax Baby Company Childbirth Education is Success Kid Approved!