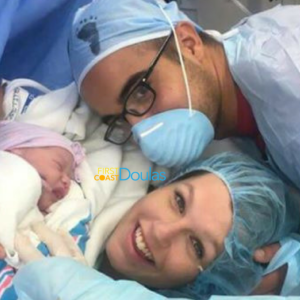 Finally, a class for parents having a cesarean birth!
Will you be welcoming a sweet baby or babies by way of cesarean birth? Are you supporting someone before, during, and after a cesarean birth? Feeling anxious, nervous, or out of touch with what to expect on the big day and weeks following the birth? The Jacksonville Baby Company understands the diverse needs of families. Our Cesarean Birth Prep Class is the only one of its kind for parents and support persons in the Jacksonville, Florida area.
Our Confident Birth and Baby Class is comprehensive and encompass the wide variations of birth choices and options including non-medicated and medicated vaginal birth, cesarean birth, and newborn and 4th trimester care. This Cesarean Birth Prep Class is a break-out class that focuses entirely on the process and beauty of birthing your baby via cesarean without all the other song and dance! 
Whether this is your first or 3rd cesarean birth we have expert tips and information to help you make this experience of a lifetime that much more wonderful!
Do you want to learn more about the process? Are you aware there are comfort techniques that are available to you? Are you clear on what options you have? Have you considered your partner's role?
In the Cesarean Birth Prep Class you'll discover all of those things as well as the things no books tell you! We'll discuss the first hours after birth your fourth trimester body, infant feeding, and healing and recovery. This class is a one of a kind class offered exclusively by The Jax Baby Company.
The Jax Baby Company is dedicated to providing families with support, science & evidence-based information and education, and options for the childbearing years.
We're here to help you transition more smoothly, confidently, and in the way that is best for you and your family! Whether you're selecting the Confident Birth & Baby Class, the Birth Partner Prep Class, or the Cesarean Birth Prep Class you'll feel prepared, encouraged, and reassured!
Not sure which class to take? No problem, contact us and we'll work together one on one to help you make the decision that is right for you!