Your doula is a pothead. Yes, you read that correctly.
I'm finally ready to let you all in on my newest secret. Sure at first I was hesitant, after all what would all of you think about my new found love, what would my doula clients think, and even more importantly what would my own family think?
Wait! Are you guys thinking I… oh never mind.
For those wondering what all this pot talk is about I am referring to the Instapot. I shared recently on my personal Facebook page that my awesome husband bought me one and many of you are pot curious. You guys could say that my husband contributed to my love for my pot.
"Try it Liz," "You'll love it Liz," "This thing is awesome!" you, who know who you are used high pressure, like the Instapot, to get me to try it. And you were right!
After trying it I love my pot! My doula clients will love this pot!
I've wanted a "magic pot," as my brother and I would call it, since I was a little girl and my mom would cook food in it like magic. No, seriously it was magic and that's not the pot talking. Not quite rainbows and unicorns magic, as it appears to children, sorry there's still work. I'm talking about, "Parents make magic happen" magic! From "Crap I forgot to pull something out of the freezer for dinner," to dinner on the table in an hour or less kind of magic!
So here is my honest review of the Instapot Lux-50.
This thing is really cool! From use in my home to assisting doula clients in their home with their pot, this thing rocks! We're talking rice cooker, crock pot, yogurt maker (some models), sauté, and pressure cook all in one pot! In a fraction, a tiny fraction of the time. What normally takes 8 hours in a slow cooker done in less than 30 minutes. How is that not magical?!
From lid closed to lid open, like magic I've cooked the following:
vegetable soup= 20 minutes
dried cannellini bean soup= 40 minutes
a falling off the bone whole 6 lb. chicken= 25 minutes
a beef roast with carrots, potatoes, and red wine gravy= 25 minutes
chicken and veggie soup= 15 minutes
from frozen, meatloaf with potatoes= 25 minutes
Boston butt/ pulled pork= 25 minutes
Bean & Ham Soup= 45 minutes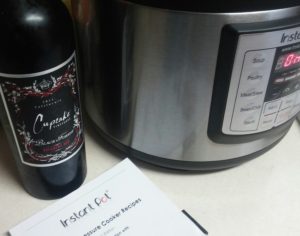 Cons:
it's another gadget
it takes time to learn it, but learning is fairly easy

doesn't have a lid for pot to fridge transfer 
Pros:
hella fast cook times
food tastes as good as it does using other methods
one pot
uses less energy
easy clean up
it can replace your rice cooker and your crockpot
cook settings & manual mode
it has delay start
keeps food warm until you're ready
has accessories like a glass lid & silicone lid for cook to fridge transfer
comes with a small cook book and cooking guide
It's cute/stylish
If you made it this far you are awesome and know how to have a little harmless fun! This blog came to life when I googled "instapot" and a picture of cannabis buds appeared on my phone screen.
After using the Instapot it's safe to say I am now a recreational pot user and hopefully after reading this blog you all will be too! Don't worry about knowing it all, just get in on the magic and get started.
Simplify your life, toss the extra gadgets, worry less, eat more, live, love, and laugh. Happy birth and parenting from First Coast Doulas!