Placenta Capsules, Are You on the Fence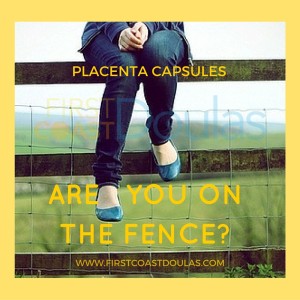 Placenta capsules are gaining popularity!
Kourtney and Kim Kardashian have done it, January Jones, Tamera Mowry, Mayim Bialik, Alicia Silverstone, and Kim Zolciak of Don't Be Tardy have also done it and like our clients who have chosen placenta capsules they boast of the tremendous benefits!
First Coast Doulas knows that there's a lot of responsibility on the consumer to make sure she is selecting someone who is following safest practices. The consumer should get clear, concise answers to her questions regarding the method and practices being used, including, but not limited to;
who will be handling her placenta and what training has the person had
possible references or testimonials
the process of sanitizing and cleaning before and after
where the encapsulation process will take place
We're providing placenta encapsulation in the client's home, only!
Why, you ask? Because we aim to remove all doubts and provide you with the safest, most unique experience on the First Coast!
The client is given information on how to speak with her provider about placenta encapsulation, literature and step by step instructions on storing, transporting, and handling her own placenta. She never has to see her placenta unless she wants to. In fact women see more at birth than while taking their placenta home or while it's being processed by their placenta specialist. Again, unless she wants to be part of the process, in which case she is welcome to watch or be hands on.
Our clients love that the person who is preparing their placenta capsules is also a birth and postpartum doula. Having that extra support and knowledge from a birth and newborn pro is a huge perk!
The client's space is left as clean as or cleaner than when her specialist arrived.
As placenta encapsulation grows in popularity it's totally possible that strict regulations will apply. Don't worry because First Coast Doulas is ready! We aim to stay in the know with the latest and most important information concerning placenta encapsulation. We're already ensuring the safest experience with placenta capsules in Jacksonville, Florida area.
We're receiving great reviews, and we'll be around when others are out of town, only offering this as a side gig, or as a "consolation prize". Why? Because we put your safety first, we're fun, knowledgeable, and we're running a sustainable, professional business!
Close the door to bad opportunities and avoid the dirty dozen.
When you select First Coast Doulas you'll have peace of mind knowing you're selecting the safest experience anywhere on the First Coast, hands down!
To discuss our practices or to book first class placenta encapsulation services with First Coast Doulas call (904) 471-6131, email us at firstcoastdoulas@gmail.com or contact us through our contact page!