I Just Want a Night with My Friends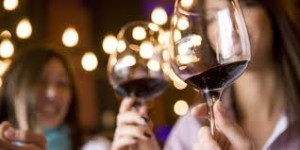 New moms give so much of themselves. They undergo rapid changes in pregnancy, like no other time in their lives. They carry and birth their babies and care for them around the clock. Feeding, bathing, dressing, comforting, and providing warmth and love to their babies. Running errands, attending appointments, writing out the bills, cooking, cleaning, and the million and one other things moms to on the daily!
Moms give selflessly day in and day out without complaint. Well, most of the time!
Is it too much for a lady to say, without guilt, "I need a break, just for a little while", "I have 99 problems, but I just want to ignore them all for a couple hours"?
NO IT'S NOT!
Is it too much for a lady to say, "I need time to be myself, the individual, the person, and not me the maid, cook, referee, nurse, wife and mom? I just want a night with my friends" and actually get it at times?
NOT AT ALL!
Remember, better person, better parent!
From one mother to another I know how it feels to need to be you. I know how it feels to not want to adult every single moment of every single day for months on end without a break. I don't know about you, but I even adult in my sleep! Even if the new you is in shock and not sure how to do "you" when you get the time!  Even if it's just for 30 minutes!
We would give our right arm to have me time!
Heck most of us would be happy for a bathroom break alone and not having to crawl to the back of our closets and hide behind the clothes to enjoy a phone call from a friend or our dark chocolate in peace.
Taking time for ourselves is important. It allows us to let loose, relax, socialize with other adult humans and come back to everyday life feeling refreshed and recharged! Setting boundaries for ourselves, for others, giving grace and settling goals and rewards, allows us to be the best me we can be! When our kiddos and spouses push our buttons we are better able to remain calm and focused when we are refreshed!
Ladies, your brilliance amazes us, you are inspirational!
We have designed a package to give you back your time! The First Coast Doulas Ladies Night In Package!
Time so you can enjoy a night with your closest friends! To feel like yourself, to talk girl talk, to laugh, vent, and if you cry you'll have a shoulder or two to cry on. After all friends are there for good times, bad times, in between times, and all those other times!
This package makes the perfect gift for husbands, best friends, or grandparents to give a new mom!!! Contact us today and get your Ladies Night In on the books and start dreaming about your night!